Shane Treolar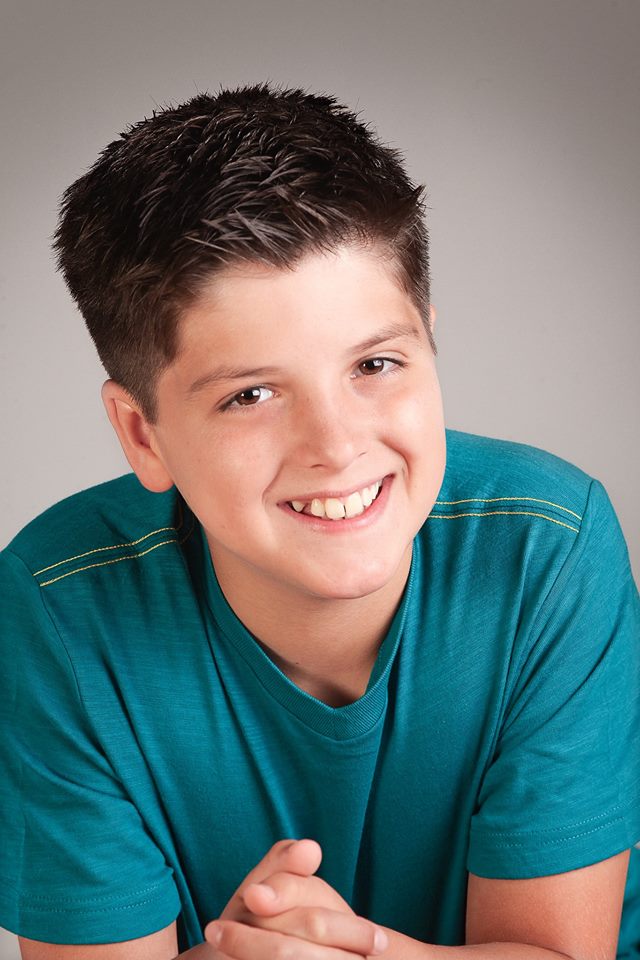 He is described as "The Boy With the Golden Voice"
Meet Shane Treloar, the 13-year-old crooner from Pittsburgh who sang almost as soon as he could talk! He sings all genres, loves Broadway tunes the best, and can belt out the National Anthem like nobody's business. At the age of 7, he made his stage debut singing Celine Dion's "My Heart Will Go On" for his elementary school's talent show. His promising voice pulled the audience to him and their thunderous applause confirmed that Shane was where he belonged!
Seeing a gift, veteran Broadway star of "42nd Street" fame, Karen Prunzik, invited Shane to study as a Triple Threat at her Broadway Dance Studio. He is now in his sixth year learning the disciplines of Ballet, Tap, Jazz, Musical Theatre, and Acting under the direction of Ms. Prunzik and her talented staff. He has had the good fortune of developing his golden voice with Etta Cox, a highly regarded vocalist and entertainer in Pittsburgh, for the past four years. Last year, he was accepted into Lincoln Park Performing Arts Charter School as a Musical Theater major and was cast as "JoJo" in the student production of Seussical the Musical.
As a member of Broadway Dance Studio, Shane performs in many Pittsburgh events, most notably, WPXI'S live television event "My Macy's Holiday Parade" and Pittsburgh Downtown Partnership's "Light Up Night" as a featured soloist. This summer Shane was a featured performer in Broadway Producer Mark Bramble's (42nd Street, Barnum) Benefit Production "ShowStoppers II" in Chestertown, MD. In 2012 he opened the Pittsburgh Pirates baseball season with a stirring rendition of "America the Beautiful" and was featured as a soloist in the Johnstown Symphony Orchestra's popular Mother's Day Concert. He also shares his talent with charitable organizations, singing at fundraisers for Make-A-Wish, March of Dimes, St. Jude, Relay for Life, and Art Rooney's American Ireland Fund. Pittsburgh's professional sports teams, The Pirates (MLB), Penguins (NHL), Power (AFL) and Riverhounds (USL Pro) have Shane as a regular National Anthem singer. He has performed for televised events with crowds as large as 40,000!
Thanks to his talented and experienced mentors, Shane performs with a stage confidence that brings him many awards and accolades from the industries finest talent competitions such as Access Broadway, NYCDA, Onstage New York, Kean Quest, and Zanafest. Most notably are the Triple Threat, Exceptional Stage Presence, Judges Choice, Audience Choice, and Outstanding Vocals awards as well as Scholarships with Ron DeVito's Access Broadway and Joe Lanteri's NY Summer Intensive.
Shane's performances have attracted the attention of local print and broadcast news media. He has enjoyed a feature story and interview on WTAE evening news, highlights on ESPN Sports Center, a feature and interview showcasing his vocal and tap dance abilities on KDKA's Pittsburgh Today Live and public radio's The Saturday Light Brigade, as well as a "Newsmaker You Should Know" article in the Pittsburgh Post Gazette West Section, a "Young Achiever" article in the Pittsburgh Tribune Review, and a Feature Cover story in Allegheny West Magazine.
The power of the internet provided Shane the opportunity to meet and eventually work with Mike Soper of Mike Soper Music in Wellington Florida. There, Shane made his first professional recording and video of the Michael Jackson hit song "Got To Be There" which can be found on his YouTube page and website. As a vocal coach and performing artist himself, Mike Soper picked the perfect song to showcase Shane's amazing vocal range and abilities!
Recently Shane has been signed with Nancy Carson, owner of Carson-Adler Agency. With over 30 years of experience, Nancy is considered one of the top agents in the country representing young actors!
2014 is proving to be Shane's break out year. He was in his first regional professional show as the "Artful Dodger" in the musical Oliver! and will make his national tour debut as "Michael" in Elf the Musical's east coast tour after being spotted by industry present at the Broadway Artists Alliance summer intensive he attended this year.
We continue to be thankful for the opportunities God provides for Shane to share the gifts he has been blessed with!