Sivan Ben David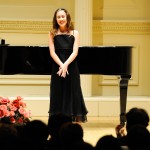 Sivan Ben-David is an 11-year old singer, songwriter, model, dancer, actress and philanthropist from South Florida. Her diverse genres cover broadway, pop, rock, jazz, R&B, alternative and classical genres. Her influences are primarily Christina Aguilera, Sarah Brightman, the late Donna Summer, and the legendary Barbra Streisand.
Sivan made her debut appearance at Carnegie Hall in December of 2013 in the winner's recital as the First Place Vocalist for American Protege International in the Broadway/Musical Theater/Jazz category. Accompanied by vocal coach/manager, Michael Soper, she performed "Somewhere" by Leonard Bernstein and Stephen Sondheim. She was awarded the Best Performance of the competition in the Broadway/Musical Theater/Jazz category. In February, 2014, Sivan was chosen as a Finalist in the Future Stars Performing Arts Competition.
In 2014, Sivan will be releasing one of 5 original songs, "Stay Strong." A unique and soulful collaboration with Emmy-award winning composer Jace Vek and Michael Soper. In April of 2012, Sivan wrote her first song "Just Be You." It was co-authored by Michael Soper. The song and music video were released at the end of June, 2012. This soulful ballad with a surprising dance twist, speaks to young and old and reminds us all that we have to reach inside, grab the magic within and always be true to ourselves. She intends to continue her song-writing, hoping to release her first album in the near future, which will be a compilation of covers and original work.
A triple-threat, Sivan not only possesses a powerful and soulful voice, and heartfelt and meaningful song-writing capabilities, but has also performed extensively on stage in many musical theater productions. She performed in Willy Wonka, Jr. (as Willy Wonka), and in Dear Edwina (as Kelli), both Rising Starz productions. She also performed in Annie (as Molly), the Wiz (as Glinda), in Cats (as Mr. Mistoffelees), and in Once On This Island (as Ti Moune), for the Performance Project School of the Arts and the Broward Center for the Performing Arts. Also a dancer, Sivan has performed solos, duets and group productions in both jazz, lyrical and ballet shows, recently appearing in lyrical and jazz numbers with Stella's Dancers' Studio. Although the winner of many local live and internet-based talent and voice competitions, in December 2011, Sivan won Season 5 (2011) of Voice of an Angel, a national singing competition. Competing live over three days, she was the youngest competitor ever to win the contest, besting four other finalists, ranging in age from 14 to 31. Sivan was also a featured finalist in the A T & T Young Artists Showcase in Aventura, Florida, performing in front of a sold-out audience at the Aventura Cultural Arts Center in December 2011. She also had the opportunity to express both sides of herself as a pop and Broadway artist at the "Eight Over Eighty Turn Back Time Awards" celebration in late 2011, at Forest Trace, (Sunrise, Florida), celebrating National Grandparents Day, where she serenaded legendary South Florida octogenarians Judy Drucker (founding artistic director of the Concert Association of Florida) and Grammy-award winning writer/pianist, Peter Fuchs (conductor of the Hallandale and Coral Springs Symphonic Pops Orchestras). She was accompanied by Peter Fuchs on piano during her performance of Memory from Cats. Recently, in July, 2012, Sivan won the title of PALM BEACH IDOLS 2012 champion in the Youth Category, singing "Waiting for Life" from the Broadway musical Once On This Island.
Sivan also actively participates in Thespians at University School in Davie, Florida, the private college preparatory school that she attends where she is currently in sixth grade. She earned straight Superior ratings in both solo and duet musical theater categories at the State Jr. Thespian Finals in 2014.
An active philanthropist, Sivan also donates her time and talent to benefit the community. She was the youngest person ever to be chosen as a Peace Ambassador for National Voices for Equality, Education and Enlightenment (NVEEE). She lends both her time an talent to raise awareness to NVEEE's world-wide campaign against anti-bullying. She is also one of the original members of the South Florida Dream Team of Tunes for Tots. Tunes for Tots is the world's music community consisting of DJs, Singers, and Bands who perform to benefit children's charities. Sivan assisted in raising more than $10,000 for the Make A Wish Foundation and helped make three children's wishes come true in 2010-2011. She also helped to raise $20,000 for Make A Wish Foundation and grant 4 wishes through her fourth grade service project at University School. Despite long hours training or performing, Sivan always has time for her diverse group of friends, her Shit-zu, Sophie, and her daily journal. Although small in stature, Sivan belts out passion with a powerful, soulful voice that is complimented by her dancing and stage presence. Through her performances, she reminds us to "Just Be You" and to "Stay Strong."